It has now been nearly two decades since Portugal decided to make a dramatic change in drug policy. A response was needed to combat a dramatic rise in crime and overdose deaths. By the 1990s, the rate of HIV infection in Portugal became the highest in the European Union.
With the option to either focus on further criminalization of drug users or seek alternative solutions, Portugal went with a radical approach and decriminalized the personal possession of all drugs in 2001. At the same time, they allocated greater resources across the drugs field, greatly expanding treatment, prevention, harm reduction, and social reintegration programmes.
Let's take a look at figures in the United States, where criminalization of drug possession has been the leading policy across the country for several decades. Officially, the The "War on Drugs" began in 1971 when then President Richard Nixon declared drug abuse to be "public enemy number one." With this public declaration came an increase in federal funding for drug-control agencies and drug-treatment efforts.
As for the results of this campaign against drugs in present day United States, according to a new Gallup poll, nearly half of U.S. adults have dealt with substance abuse problems in their family.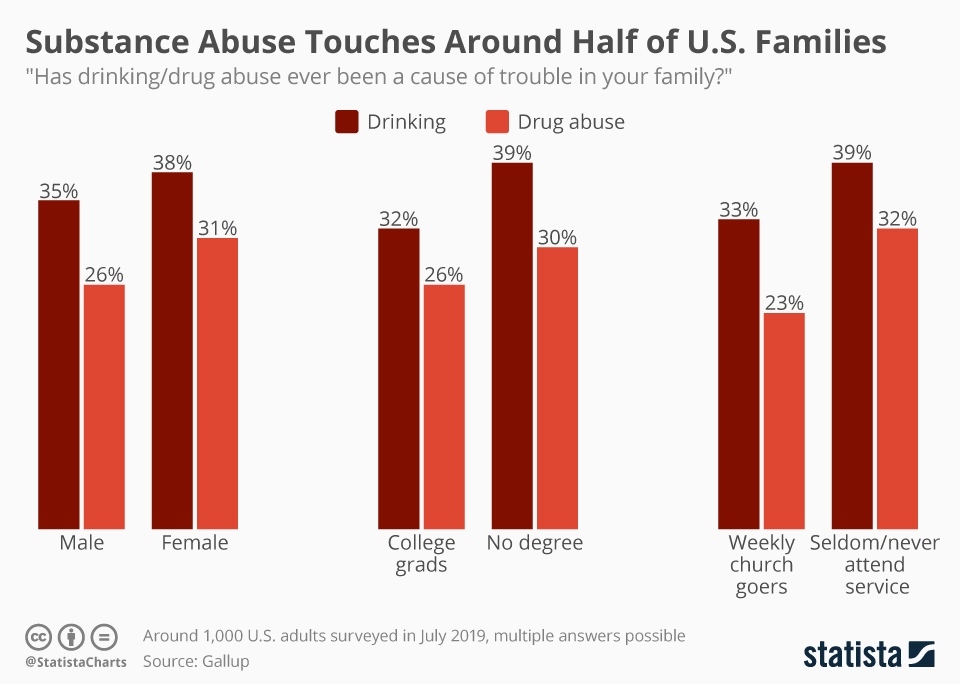 Here are some facts to digest:
 

The New York Times reports

that drugs have been the top reason people have been arrested in the United States for at least the past 10 years.

According to estimated crime statistics 

released by the F.B.I.

in September, there were 1,654,282 arrests for drugs in 2018, a number that has increased every year since 2015.

In the past 3 decades, drug overdoses have killed approximately 870,000 people.

Fatal drug overdose numbers

rose every year from 1999 to 2017

, including a sharp spike between 2014 and 2017. Experts partially blame the overprescription of powerful and addictive painkillers for the epidemic.
The New York Times highlights a stark difference in how drug policies differ in the US from Portugal. Chuck Wexler, executive director of the Police Executive Research Forum, stated:
The overdose epidemic has contributed to how police departments respond to drugs, particularly in communities that lack diversion programs like the one in Seattle.

Today you have more recognition that you need to get people into treatment, but treatment is expensive and resources aren't equal around the country. In many parts of the U.S., arrest is viewed as the only alternative that they have.
Contrast this with the Portugal model, which has decided to treat drug users as a health issue and not a criminal one. Dr. Capaz emphasizes this point by describing how this has a noticeable societal effect: 
With the decriminalization of drug usage and in passing population from the judicial system to the healthcare system, what happens is the you reduce the stigma associated with criminality. Because if the system or the state doesn't deal with drug users as criminals, the society will not perceive them as criminals. 

Additionally, Dr. Capez believes that if each person dealing with substance abuse is treated as someone who is in need of some sort of healthcare, the society will also perceive them like that and therefore reduce the stigma associated with it.
So if a societal shift has already occurred, as is the case in Portugal, could kratom be a safe alternative to some of the existing treatments in this country?
Currently, methadone is advocated and promoted in the country as a highly effective way of reducing cravings for opioids like heroin. In Lisbon, for example, methadone is distributed in vans and can also be given as take-home doses.
Forbes highlighted psychologist Hugo Faria, who coordinates one of two Low Threshold Mobile Units. These units go out into the city to administer methadone as well as provide a wide range of services: blood testing (TB, HIV, syphilis, etc.), syringe exchange, condoms, other medications (e.g. antibiotics) and education.
Dr. Joao Goulao, a family medicine doctor during the peak of the heroin epidemic, shared his opinions with Forbes: 
My "mindset" changed when I learned that addiction is a chronic medical disease of the brain, and that most people with addiction–once connected to the appropriate treatment and care–GET BETTER.
With so many success stories globally about the efficacy of kratom, the obvious question is posed: Could kratom be a valuable tool in Portugal's approach to dealing with pain management and addiction?
Addicts waiting for methadone at a drug treatment project in Lisbon. Photograph: Horacio Villalobos/Corbis via Getty Images
Dr. Christopher McCurdy, who has studied kratom extensively at the University of Florida College of Pharmacy, explains to WebMD his beliefs on using kratom:
I definitely believe there is legitimacy to using kratom to self-treat an opiate addiction. I believe it from the standpoint of the material we know is pure and unadulterated and good. 
Additionally, McCurdy's research on mice shows kratom has a clear potential to treat opioid withdrawal with few side effects.
It is probably addictive, but its addictive equivalent is something like coffee, which isn't surprising because the leaf is in the coffee family. We firmly believe that it will be very good for treating opioid withdrawal and may be a possible solution to the opioid epidemic we are facing as a country [in the United States].
But he says that would require testing kratom in clinical trials and controlled studies. He's hopeful that will happen in the next 5 to 10 years. Portugal, however, is ripe to begin testing without the political minefield that currently exists in the US.
With so many people reportedly successfully moving from methadone to kratom, is it actually a better option for Portugal's drug policy moving forward? Read… Portugal and Beyond: Is Kratom Better for Opiate Withdrawal Than Methadone?